Athletic Nutrition : Everything You Need To Know To Safely Improve Your Performance, Immunity, And Health Here!

Athletic nutrition or sports nutrition is the study and practice of nutrition and diet as it relates to athletic performance.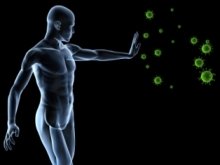 Exercise appears to strengthen the immune system, but too much may have the opposite effect. If you are an athlete, you are aware of the need to give more than the usual attention to your athletic nutrition and immunity.
Many elite athletes come down with illnesses when they overtrain. Overtraining can give rise to injury and a suppressed immune system, leading to down time during workouts and competitions.
Athletic nutrition was a key factor at the Olympics back in 1996. A widespread virus ravaged the athletic community prior to the 1996 Atlanta Olympic Games, which ruined years of hard work for many athletes who were affected.

Stay up to date with the latest news by signing up for our e-zine:




Similarly, tests that have been conducted on marathon runners revealed that those who were running over 60 miles a week were twice as likely to catch a cold as those running 20.
Most of us do not push ourselves to this degree, so it is appropriate to find a proper balance when it comes to athletic training for proper immune function. Giving attention to proper athletic nutrition can do much to assist us, whether we are professional athletes or everyday regular exercisers.


---
Athletic Nutrition : Oxidative Stress
---
Proper athletic nutrition cannot be overemphasized. While working out, athletes may consume 10 to 15 times more oxygen than usual, so is a major factor to consider when it comes to athletic nutrition.
With this increased consumption of oxygen comes intensified metabolic processes, and as a result the formation of damaging free radicals is accelerated. Learn more about the process of oxidative stress
here.
Some scientists are finding that free radicals may play a significant role in the events leading up to muscle inflammation and damage.
Our best strategy for combating oxidative stress is to consume or manufacture
antioxidants within our bodies. External ones like Vitamin C and E, along with raising the internal antioxidant glutathione is crucial.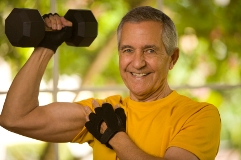 Because antioxidants are so critical to those who exercise, much research has been done testing and observing them.
Two goals with this research are to avoid the negative potential of over-training and also to see if antioxidants can assist in athletic performance.

There have been several studies done to illustrate this effect, and if you would like to have access to more studies than are shown here, please
contact us for more information.



---
Athletic Nutrition : Glutathione In Medical Studies
---
Can glutathione be used in athletic nutrition to increase muscle strength? Let's find out.
First, let's get a brief 2 minute overview of the four main functions that raising glutathione with Immunocal assists with: Immune function, recovery, performance, and muscle mass.
Join Dr. Jimmy Gutman and his faithful assistant John Molson as they explain these important aspects of athletic nutrition in this brief 2 minute video:




A dramatic example of increased peak power and muscle strength came through Dr. Larry Lands at McGill University in Montreal, Quebec. On the premise that oxidative stress contributes to muscle fatigue, he gave young healthy adults the whey-based glutathione precursor Immunocal for three months.
The study entitled "Effect of supplementation with a cysteine donor on muscular performance", may be viewed online here. (this link opens in a new window)

A sum of the findings in part, are included below:
Oxidative stress contributes to muscular fatigue. GSH is the major intracellular antioxidant, the biosynthesis of which is dependent on cysteine availability. We hypothesized that supplementation with a whey-based cysteine donor [Immunocal (HMS90)] designed to augment intracellular GSH would enhance performance... Both peak power [13 +/- 3.5 (SE) %, P < 0.02] and 30-s work capacity (13 +/- 3.7%, P < 0.03) increased significantly in the Immunocal group, with no change (2 +/- 9.0 and 1 +/- 9.3%) in the placebo group. Lymphocyte GSH also increased significantly in the Immunocal group (35.5 +/- 11.04%, P < 0.02), with no change in the placebo group (-0.9 +/- 9.6%). This is the first study to demonstrate that prolonged supplementation with a product designed to augment antioxidant defenses resulted in improved volitional performance."

Immunocal, a bioactive whey protein which is clinically proven to enhance the body's production of the critical antioxidant glutathione, was shown in this clinical study to increase peak power and exercise capacity by 13% in healthy young adults, thereby increasing muscular performance in these athletes. Races and competitions are won or lost by fractions of a second or minute differences in muscle power, so an increase of 13% might mean the difference between finishing 1st versus 3rd in a competitive sport.
How would you like to have that kind of edge in your competitions?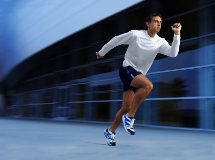 The good news doesn't stop there. Lymphocytic levels of glutathione were increased as well, which means that , instead of the immune systems being drained or suppressed, the immune systems of the participants were enhanced. Lymphocytes are white blood cells and are necessary for the immune system to exert it's full potential. This too is of special concern to athletes whose immune systems may be compromised by overtraining.
Another study regarding lung function done with the same undenatured whey protein entitled "Effects of cysteine donor supplementation on exercise-induced bronchoconstriction" can be viewed here. (this link opens in a new window)
This study demonstrated improved pulmonary (lung) function as a result of consuming the undenatured whey protein to raise glutathione levels.

Further research into glutathione supplementation for athletic nutrition demonstrates increased
immune function, decreased muscle damage and inflammation, reduced recovery time, and increased strength and endurance. Evidence also shows that glutathione up-regulation can shift metabolic processes from fat production to muscular development.
Because of these findings, there has been some concern whether Immunocal might be considered a "banned substance" by the US Olympic committee. Anything that gives you an edge could cause you a problem when you are tested, right?
When it comes to athletic nutrition, can Immunocal be part of a program for proper nutrition for professional athletes to raise their glutathione levels?
---
Yes. Immunocal is Legal for Use by Olympic and World Class Athletes.
---


Of course, that means you can safely and legally use it too, even if you are not a professional athlete!
ConsumerLab.com, LLC ("CL") is the leading provider of independent test results and information to help consumers and healthcare professionals evaluate health, wellness, and nutrition products. So what they find is of value to all of us, whether we are elite athletes or regular exercisers.
It publishes results of its tests at www.consumerlab.com — which receives over 2.5 million visits per year. It also publishes these results in its acclaimed book "ConsumerLab.com's Guide to Buying Vitamins & Supplements". CL also surveys supplement users and publishes survey results. Its research is frequently cited in the media, books, and at medical meetings.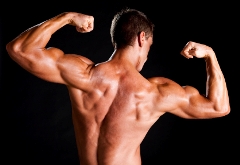 Immunocal has been tested as part of ConsumerLab.com's Athletic Banned Substance Screening Program which screens for over 170 substances (including metabolites) based on the 2007 World Anti-Doping Code Prohibited List and has been certified free of any prohibited substances.
This comes as no surprise, since it starts out as raw cow's milk, and nothing is added to it. Only the bioactive proteins are used from the milk. What remains is a biologically active and pure, pharmaceutically prepared, undenatured whey protein isolate.
You can learn more about undenatured whey protein
here.

The screening includes testing for stimulants, narcotics, anabolic agents, diuretics, masking agents and beta blockers based on the Olympic Movement Anti-Doping Code or the codes of other sports organizations.


What should athletes and elite athletes know about how much Immunocal to take and when to take it in order to optimize their performance? Join John Molson, an elite athlete himself, as he joins Dr. Jimmy Gutman for this brief ImmunoByte on Dosing for Immunocal.
The moral of the story? Know thyself for optimal performance!
---

World Class Mount Everest Summiteer Uses Immunocal


---


Have any world class athletes successfully used Immunocal for athletic nutrition to enhance their athletic performance?

Gabriel Filippi, elite mountaineer, has successfully climbed six of the Seven Summits Crown (highest summit on each of the seven continents): Mt Everest (Asia), Mt McKinley (North America), Mt Aconcagua (South America), Mt Kilimanjaro (Africa), Mt Elbrus (Europe) and Carstensz Pyramid (Oceania). He feels that athletic nutrition is very important.
Gabriel successfully summitted Mount Everest on May 30, 2005. Mount Everest is the highest mountain in the world, standing at a towering 29,035 feet on the border of Nepal and Tibet. He made his climb with the assistance of Immunocal.
He brought it with him up the mountain, along with Immunotec's Vitamin and Mineral supplement, and energy tonic called XtraSharp, and successfully reached the summit. Gabriel credits Immunocal and these complementary products with giving him the edge that he needed to succeed.
You can view a clip of his video where he shows the products he is relying on to give him top performance on his expedition here:


Below you can view a clip from his push to the summit:



We had the privilege of meeting Gabriel in person and hearing him speak of setting goals, perseverance and achievement at a recent business event for our company. He is truly an amazing person and we were privileged to witness his motivational speaking firsthand.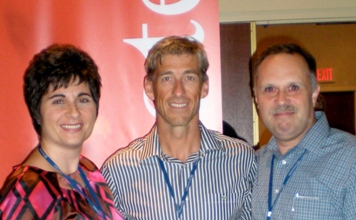 Do you think Gabriel is just resting on his laurels now? Gabriel has set his sights on Antarctica. In December 2009 he will bring his 80 year old father-in-law, Gaston Malenfant, to the top of Mount Vinson.
When he successfully summits mount Vinson, he will complete the circuit of the 7 highest summits on each of the 7 continents.
Gabriel has set the bar. Gabriel recently e-mailed to update me on his latest endeavor as of January 2010:
"Just got back yesterday from 2 weeks in Morocco. We shot a TV pilot on the mountain with Arab climbers. It is in countries that are fighting one against each other, but we are sending a peace message that they can all work together. I met wonderful people and they all have one goal: peace between them, and unity in the Arab world. I am the expedition leader and director of the logistics. A lot of work, but it is fun and a pleasure to be part of this unique project."
---

How high will YOU climb?


---


To sum up glutathione's role in athletic nutrition, we can note the following points:
Helps eliminate free radical damage, known to cause muscle soreness and fatigue. This leads to quicker recovery.
Decreases muscle fatigue, downtime, and muscle burn.
Protects each cell from damage.
Is the body's own naturally produced master antioxidant.
Recycles dietary antioxidants, such as vitamin B, C and E, optimizing their effectiveness and life span.
Slows the human aging process by fighting free radical damage.
Increases energy and endurance.
Increases lung function.
Improves immune function.
---


In conclusion, for great athletic nutrition, the importance of raising your glutathione levels cannot be overstated.
Studies have demonstrated that exercise, while beneficial for good health, also increases oxidative stress, and over-training accelerates this damaging process.
This can also lead to immune deficiency states, prolonged fatigue, and depletion of protective antioxidants, such as glutathione.
The role of proper nutrition for athletes deserves special attention.
The role of external antioxidants such as Vitamin C and E, as well as your own manufacture of glutathione from undenatured whey protein has been shown in studies to safely and effectively improve athletic performance and peak power by as much as 13%.
Glutathione up-regulation with Immunocal passes Consumer Lab's banned substance screening, so it is safe and effective to use in competition. It's also safe and effective for everyone to use!
Raised glutathione levels also improve recovery time and immune response, buying the athlete precious time that may otherwise be spent coping with illness and infection. Also, muscle damage is decreased, recovery time is reduced, and muscle development is accelerated.



Medical Update: In a recently published medical study, healthy elderly subjects experienced increases in muscle strength while using Immunocal. The article was published in the Journal of Nutrition in Health and Aging and may be viewed on PubMed here.
Dr. Jimmy Gutman is the world's most published author on the subject of glutathione. His current bestseller is entitled "Glutathione - Your Key To Health."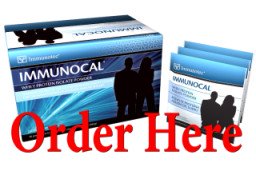 ---
Return from Athletic Nutrition to Nutrition Tips.

Learn more about Immune System Research here.

What is Oxidative Stress?

What are Antioxidants?

What are all the ways to raise glutathione?

I have a question before ordering.

What is undenatured whey protein, and how is it different than other whey proteins?

Return to top of page.

Return to Home Page.